Days before leaving for the Consumer Electronics Show, Boulder's Seamless Toy Company, maker of the modular tech building blocks called ATOMS, wrapped up a Kickstarter campaign with an ambitious $100,000 goal.
In the end, more than 1,000 backers contributed a total of $183,232.
We checked in with Seamless CEO Michael Rosenblatt to talk about that fundraising effort and to find out how the company navigated the massive show.
The UpStart: You completed a hugely successful Kickstarter campaign before leaving for Las Vegas. Did that energy carry over to the show?
Michael Rosenblatt: On the contrary, we were quite humbled and a bit intimidated about being invited to showcase ATOMS at the Bluetooth Special Interest Group's technology press event. I mean, it's CES! Every tech company in the world is bringing out their latest and greatest dazzle. We had been a company for about 60 days at that point.
We know we have something great, but our product prototypes are very early stage right now and had been stomped on by children and baked into cakes (literally) at that point. So we hid out on a small table in the back corner of the event, where we thought we wouldn't be in the way. Much to our surprise, two guys from Engadget found us, and 40 minutes later ATOMS was on their homepage as one of the first stories they ran from CES.
The UpStart: What was the most common question you got about ATOMS?
Rosenblatt: "When will it be available?" "When can I get my hands on it?"
We are expecting to have product ready to ship by June.We also got asked a lot about compatibility with Android smartphones (the ATOMS Bluetooth set is currently only compatible with iOS). We'll be rolling out the Android version as soon as Google rolls out full Bluetooth 4.0 support; we expect this year.
The UpStart: What other innovative tech toys impressed you at CES?
Rosenblatt: We were really psyched to see the Cube 3D printers out in greater force this year now that they are shipping.
Also, we should tip our hats to Modular Robotics, another startup from Boulder. Their Cublets product is really cool, and they actually went out with a booth and showed really well. We sometimes get referred to as competitors, but our products are designed for fairly different use cases and I think will ultimately reach different markets.
The UpStart: What did you want to accomplish at CES? Are you satisfied with the results?
Rosenblatt: We formed some great new relationships with media organizations, prospective recruits, partners, and suppliers. If not for CES, it would have taken us five times the money and cost to have those face-time meetings with people who are based all over the country. The results were great.
I also had the chance to introduce one of our new team members to the consumer electronics industry in a pretty amazing way, including visiting some of the flagship booths, key component companies for ATOMS, important off-floor meetings, and we even got a ride from a friend in a Tesla Model S.
The Upstart: Other than sales and outreach, what was your most valuable takeaway from CES 2013?
Rosenblatt: We came away from CES with some clear ideas on how to show well at CES 2014 when we go out with a larger presence.
There was a pretty wide "hot-or-not" distribution with respect to the relative attention booths were getting. We recognized that the most successful displays were the ones that had clever ways of engaging their audiences.
About Seamless Toy Co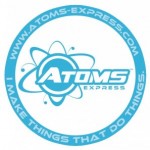 Company name: Seamless Toy Company
Headquarters: Boulder, CO
URL: atoms-express.com
Twitter: @ATOMS_Express
Years at CES: 1; 2 for CEO Michael Rosenblatt
Employees in attendance in 2013: 2
Product(s) showcased in 2012: ATOMS