Unlike traditional media, the blog world is increasingly segmented and people are able to tune into the topics that interest them and tune everything else out. The result is a very niche and highly attentive audience.
However, four years ago, BlogFrog co-founder Rustin Banks saw a problem in the blog space: Bloggers and their followers didn't have an effective way to have productive conversations within the blog. Sure, people might comment and spark a discussion, but then the conversation would get lost in the typical noise of the comments section.
To help bloggers better communicate, Banks created a system that gave writers a social platform that helped create a community of bloggers that could have a dialogue between each other, rather than simply shouting into the void. The seeds for BlogFrog's vast network of influencers and brands were planted.
Influencer marketing is a new realm of product promotion. Rather than send out a broad message to millions, it focuses on sending relevant, relatable and personal content to a smaller audience. But because the content comes from socially influential peers—consumers form a much deeper relationship with the brand, which, as any marketing company knows, is the sweet spot.
With clients such as ABC News, Pillsbury, Redbox and Udi's Gluten Free, BlogFrog is proving that the next wave of marketing isn't about shelling out millions of dollars on banner ads that reach millions but actually make few impressions. It's about brands connecting with the right community of influencers and becoming a part of organic conversations that are happening all across the Internet every day.
In short, it's about community.
Mommy Bloggers: The Key to Connecting
When cofounder's Holly Hamann and Rustin Banks started creating their network of influencers, there were no brands involved. They just wanted to connect communities and create conversations.
Hamann and Banks decided to hone in on one specific community and then build from there. Hamann explains that there are several topics that are big online: Fashion, Food and Family. The biggest of the three is the parenting community. Holly and Rustin theorized that women would be more likely to participate in an online community, especially mothers. They thought, "If we can really serve that segment well, because they're so community oriented, we would really learn a lot about community, influencers and content."
They spent a lot of time researching their initial target audience and discovered that women are responsible for about 85% of household purchasing decisions, from groceries to furniture, so building a community of influential women would not only be a great foundation for a community, but it was a perfect selling point for BlogFrog's next step forward: Bringing brands into the conversations that were already happening organically.
"Brands are really good at talking about their products, but they're not good at taking it a level higher and being part of an authentic conversation. It doesn't always have to be brands pushing messaging. It can just be listening to what your consumers are talking about and then participate in the conversation," explains Hamann.
Personal Connections: When Brands Relate on a Deeper Level
You know you're doing something right when brands start contacting you about reaching your audience before you've even reached the stage where you're ready to begin adding brands into the mix. And that's just what happened to Holly and Rustin.
With their core community of parenting bloggers well established, several brands started to recognize the opportunity to connect with these people on a personal, one-on-one level. The fact that brands acknowledged the opportunity before the cofounders even had to sell the idea meant that they were headed in the right direction and they took advantage of the early success that they saw from the brands that adopted the influencer marketing concept readily.
Having chosen their core community wisely, Hamann and Banks were able to expand into new areas with relative ease. Soon, they had robust communities built around fashion, food, fitness and entertainment from the same mommy bloggers they had signed with originally.
Reevaluating their Products: the BlogFrog Community Evolves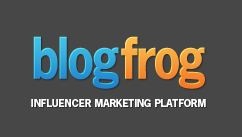 Recently, BlogFrog unveiled their newest product: The Influencer Marketing Platform, which connects the social media savvy community with brands, but also gives the brands access to valuable metrics that show ROI. The Influencer Marketing Platform is the natural next step in a company that saw the need for a better way to create communities online and then connect brands with those communities.
Along with the Influencer Marketing Platform, Hamann says they made the decision to get rid of paid premium and platinum services for their influencers. She explains that they've always wanted bloggers to have an avenue to connect and communicate, and they wanted to be able to provide those services for free.
You Can't Start a Community with One Person: Holly's Advice to Startups
When asked what the one piece of advice she wanted to give to other startups, Holly is adamant that you find a great cofounder. Just like a community needs more than one person to function properly, startups need to have at least two people that can bounce ideas off each other. It's very difficult to think critically about your business if you stay in your own head the whole time. A cofounder draws the right things out, supports the good decisions and questions the bad ones.
Additionally, she says, "A lot of investors look for teams because they know that it's really hard for one person to make sound decisions without some kind of a sounding board. And who you choose to partner with will be one of the most important decisions you will make in the entire history of your company."
Case in point, Hamann and Banks parlayed their four-year partnership into a $3.2 million Series A financing round from Grotech Ventures earlier this year. They've since opened an office in New York City in order to work more closely with some of the marketing and PR firms that they've paired with over the past several years. They also recently announced their partnership with Meredith Publishing, a female-centered company responsible for publications like Better Homes and Gardens, Parents and Eating Well.
The bottom line
Marketing to an awful lot of startups is considered an add-on to sales and not a powerful customer development discipline in its own right to help companies listen to their user base.

Today's media and communication structure is vastly different from the way that it was only a decade ago. Social media and blogging have drastically changed the way people are informed and entertained.