community
Boulder.me are volunteers using an old fashioned sense of hospitality to welcome newcomers to the Boulder startup community.
Ignite is a night of presentations on a variety of topics, with a twist. Each presentation has 20 slides that automatically advance after 15 seconds. It is a worldwide movement. Events are held in Boulder, Denver and Fort Collins, as well as thematic programs, like Ignite Chanukah.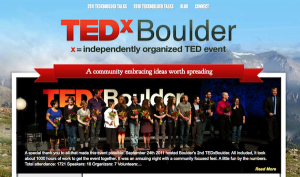 TEDxBoulder is a program of local, self-organized events that bring people together to share a TED-like experience.
The insider's guide to Colorado coworking spotlights shared workspace that is so much more than simply its physical environment. Some emphasize their collaborative community culture. While others serve as vibrant mixed-use spaces with hot desks and networking events. And, this being Colorado, some are dog-friendly.
demo events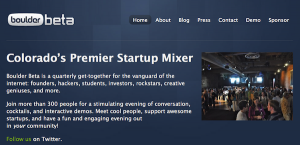 At Boulder Beta, you can expect socializing with friends and colleagues and meeting new people from throughout the entrepreneurial community. You'll get the opportunity to mingle with founders, investors, students, faculty and community members in a relaxed and casual environment.
New Tech is the local community gets together to network, socialize and show-and-tell new technology. Join us. Events are held monthly in Boulder, Denver and Fort Collins.
House of Genius brings together a group of 15-18 wide-ranging minds and three business presenters. The three presenters share their business and a key problem they are facing in rapid-fire fashion. Next, each attendee offers questions, insights, suggestions, or introductions that may assist the presenter. The collaboration in this structured event is the true "genius"–you'll be amazed at the power of the thinking that is evoked in this collaborative format.
resources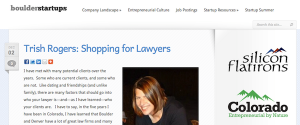 Boulder Startup Center is a resource page for the best place to start a business! With the largest number of geeks per capita in the country, a world-class research university, and a wide variety of tech companies, Boulder has been described by the New York Times as a "magnet for high-tech start-ups" and by Fox Business News as "the next Silicon Valley." We're here to help you get started by finding resources in all kinds of areas, from legal to financial.
The CU Entrepreneurial Law Clinic provides law students with unique, practical experience in transactional law while offering valuable legal services without charge to local businesses that lack access to venture capital or angel investor resources. The Clinic's clients include graduate students, professors, local entrepreneurs, and start-up companies.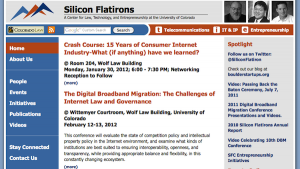 Silicon Flatirons pursues three basic goals: to elevate the debate around technology policy issues; to facilitate networking, the development of "human capital" and the promotion of entrepreneurship in the Colorado technology community; and to inspire student interest in technology law and entrepreneurship.
Startup Colorado is a regional initiative to spur new company creation across Colorado's Front Range. From Fort Collins to Boulder, from Denver to Colorado Springs, our mission is to multiply connections among entrepreneurs and mentors, improve access to entrepreneurial education, and build a more vibrant entrepreneurial community.
startup groups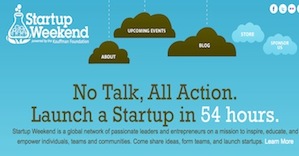 Startup Weekend is a 54-hour event where developers, designers, marketers, product managers and startup enthusiasts come together to share ideas, form teams, build products and launch startups. Events are held in Denver and Boulder annually.
Startup Women is an informal group of women entrepreneurs who are creating or managing our own businesses and meet to share the good, the bad, and the ugly. We are fortunate to have a wide variety of businesses included – arts, journalism, marketing, all forms of media, and tech.
Springs Startup provides news and information related to startup and entrepreneurial activity in the Colorado Springs area. We aim to highlight people and companies doing innovative things as well as events and organizations that help foster the entrepreneurial spirit in our region.
Denver Founders Network is a vibrant network of entrepreneurs sharing experiences, connections, and knowledge founded by friends and alumni of the Bard Center for Entrepreneurship at the University of Colorado at Denver. Come join the conversation!
Know of other Colorado startup events, groups or business help? Shoot us a link at
pitch@theupstart.co
.